Change mobility habits 
Living car-free is possible and quite easy in Singapore. There are plenty of shared transportation options. Prefer walking, bicycling or MRT/bus to Grab and other ride-sharing options. 
If you take a ride from Grab, you can participate to their Green program by reducing your carbon footprint for every ride.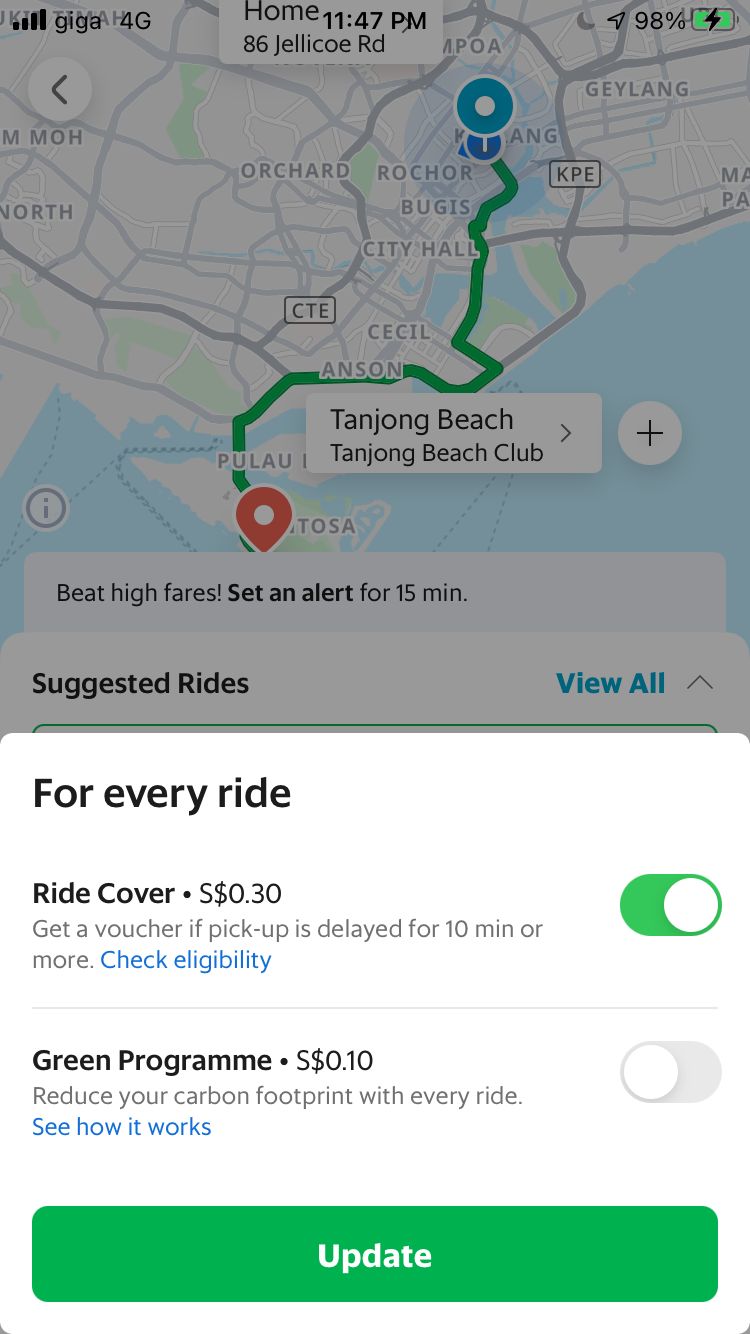 If you need a car for any occasion, this service offers to rent electric cars : Blue SG.

Buy green energy 
Since 1 May 2019, all Singapore households can choose our energy retailer.  We've done the homework for you!  You can choose to support one out of the 3 companies that Climate Conversations have found to be supporting our energy transition towards renewables. Check out the information here!. 
Reduce your aircon temperature, or switch to a fan whenever possible
An air conditioner consumes much more power than a typical ceiling fan. When using an air conditioner, you can reduce your carbon footprint by reducing the temperature. Energy experts have proven that if you increase the temperature of AC only by 2 degrees, then it can slash up to 30% electricity bill. (Source)
Eat a plant-based diet 
Discover Abillion : find vegetarian friendly restaurants. The app is amazing as it shows you with pictures all the vegan dishes you'll find in each restaurant in Singapore, and dishes are rated by consumers !
Move towards zero-waste
Refuse : Say no to things that you don't need and don't buy products that can harm you, your family and the environment. e.g. refuse freebies, single use plastic, harmful chemicals, etc.
There are several shops offering groceries and other goods with no packaging or no disposable packaging, such as : 

Reduce:  for what you actually need, use less. e.g. use less paper, get energy efficient appliances, etc.

Reuse: Reuse something you already have instead of buying something. Replace disposable items instead of reusable ones.

Some resources to help you reuse in Singapore : 

Repurpose: take something and use it for something else, e.g. use an old jar as a flower pot

Recycle: last but not least, if the above 4 options won't work, recycle.
For inspiration on how to reduce your waste, check out the very active Facebook group called "Journey to Zero Waste Singapore".
Spread Awareness
As recommended by Climate Conversations, the main reason it's hard to build a movement on climate change is that many people think it's difficult to talk about. A simple way to have a conversation is to talk about something you are doing and invite your friends to join you.  You can visit Lepak in SG to find out more about environmental events taking place every week.
Bookmark this empowering article and read about what changes you can make: https://heated.world/p/what-can-i-do-anything
Make sure to share what you're doing with your friends, why it's important to you, and invite them to join you. The only way we can work on a problem as big as climate change is together.  
Put your money at the right place
Select a bank which doesn't finance fossil fuel industries, or at least does a better job than others. You can get an analysis by Bloomberg on fossil fuel finance vs green finance by the top 30 banks in the world here. 
Invest in climate change ETFs (but be careful of greenwashing).
Donate to initiatives that are trying to accelerate innovation for climate change, such as Time for the Planet, or to one of the various organizations planting trees, like Teamtrees.
Track and gamify your eco-conscious actions